Lots of people move into Stechford. There are bargains to be had if you're looking to buy a house — especially if you want something bigger than you could normally afford.
Whether you're planning to stay a long time or a short time, this page is to help you get the most out of the area. More information is available at the Stechford Wikipage.
Local Attractions (walking distance)
Stechford Cascades Leisure Centre
Blakesley Hall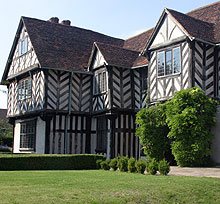 Blakesley Hall

Shopping
There are some grocery and hardware shops, along with a chemist and a laundrette along Station Road, between Victoria and Yardley Fields Roads. Stechford Retail Park has a variety of carpet, electrical, clothing and household goods shops, including Argos, Currys, Home Bargain and Matalan.
The Yew Tree, which is five minutes drive south along the A4040 (11 bus route) has a good range of shops, some building societies and banks. The Fox and Goose, which is five minutes drive north along the A4040, has Tesco, Aldi, Somerfields, Farmfoods, and a range of smaller shops.
There are post offices on Bordesley Green East near Heartlands Hospital, at Glebe Farm, at the Fox and Goose, and at the Poolway.
Transport
There is an excellent travel planner for Birmingham, which actually lists Stechford Baptist, and will give you the best route by rail and bus to anywhere in the West Midlands. Click here.
Train: Stechford Station has regular, fast routes to Birmingham New Street (every half an hour, about 7 minutes travel time), and, in the other direction, to Birmingham International. You can get a train to London or Manchester from either of these.
Bus: The 11 route is Birmingham's outer circle, and follows (more or less) the A4040. It's very convenient as far as Erdington (north) or Acocks Green (south), but any further and you are probably better off going through Birmingham city centre. The 14 goes from Iron Lane to Birmingham Centre, and the 97 goes from Bordesley Green East past Heartlands Hospital.